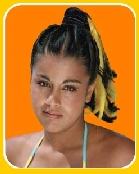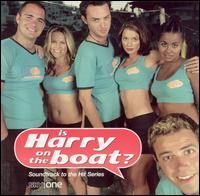 TV Banner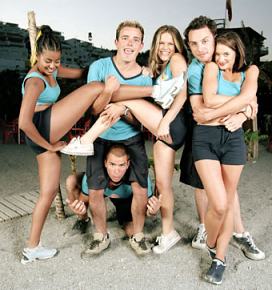 Pooja with the other five reps.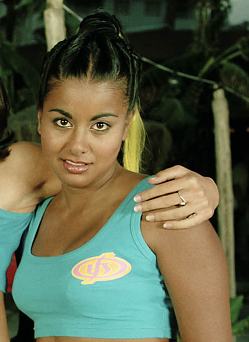 Pooja as Sinjata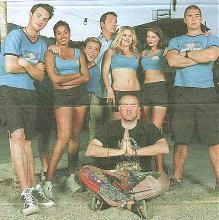 Six reps with the manager and Cosmic Bob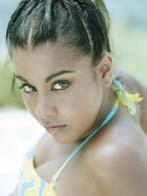 Pooja as Sinjata


&nbsp
Spring 2002, Pooja spent five months in Spain playing one of the lead roles, Sinjata, in the Sky One's series 'Is Harry On The Boat?' based on the best selling book and film. The story is about holiday reps and what they get up to in Ibiza. All the shooting was done in Almunecar in Southern Spain.
About the Series - from SKY-ONE Summer 2002 brochure
Is Harry On The Boat? Will Harry be too hot for you…? Before Footballers' Wives, there was Dream Team; before Club Reps, Ibiza Uncovered. Sky One leads the way once again with the sexiest drama series to hit the beach yet, Is Harry On The Boat?, the first really honest interpretation of contemporary life in Ibiza. Whether you're a leftover from the 'Summer of Love', about to embark on your first clubbing odyssey or just looking for the ultimate chill-out, Is Harry on the Boat? will be the definitive entertainment excursion. In the spirit of the film adaptation of Colin Butts' best-selling book, Sky One's hedonistic new drama series lays bare our reps' relationships with holidaymakers and locals in Europe's sizzling party capital, Ibiza. Preparing to guide you through a pure rush of entertainment this summer, our sexy six-pack of reps include the adorable but dodgy cockney rogue Garry (Quentin Jones), a real 'Now you see me now you don't' character; Party King and shag monster of San An. Then there's Robbie (Charles Kemp), of '**** me, she's fit!' fame. He's a cute and quirky Manc with a taste for top totty and a passion that burns all the way to his crotch, but the amateur of the bunch when it comes to the ladies. Gabriel (Gregory Finnegan) is an alluring willowy figure from the Emerald Isle, credible and seductive, who takes a turn to the dark side… Not to be outdone, Rosie (Lorna Pegler) leads the girls. A sexy diva with the voice of an angel and the looks of a supermodel, her good intentions are consumed by the fires of ambition. Sinjata (Pooja Shah) – catchphrase 'Don't even think about it!' – is sizzling hot, ready to do battle with life and to follow her dream to become the best new DJ on the Ibiza scene. Donna (Louise Franklin) completes the team, a sultry authority figure whose naive charm, ample bosom and razor wit are the undoing of many. Trying to keep this chaotic lot together are Brian (James Doherty), Resort Manager: 'Can't talk…I'm having a drama'. Sharp, quick witted and camp as Kylie, he's hard at work and hard at play. Cosmic Bob (Stephen North), the bar owner, is the philosophical type: 'You p**s me off – I'll kick your face in. That's karma, isn't it?' A blissed out spliff-head, he has found spirituality and now spends his time in search of universal truths and changing beer barrels. A drama for those who are mad for it, Is Harry On The Boat? looks set to get viewers hot under the collar when it makes its scorching debut on Sky One this summer. Filming on location in Spain, the 18x 60 series is produced by PlanetRapido for Sky One. Great music, great look, great buzz. The spirit of Ibiza on Sky One in June.
Pooja's role
Pooja plays the part of Sinjata Kapoor.
Sinjata Kapoor - hindu babe with a dream
Sinjata lives for the beat. So if you're coming to Ibiza to launch yourself bow-first into the sea of music, then head for her wet dock straightaway. She'll guide you in gently and if you're lucky she might even show you some of her own special moves. All you need in return is the rhythm.
Back to Screen and Stage Work