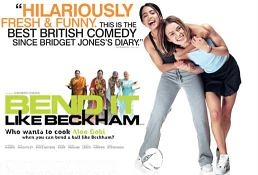 Film Banner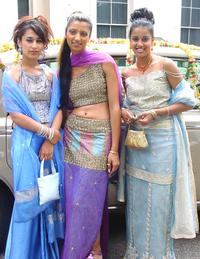 Preeya Kalidas, Paven Virk and Pooja Shah as Monica, Bubbly and Meena, three cousins.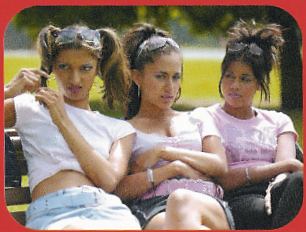 Bubbly, Monica and Meena in the park watching the boys.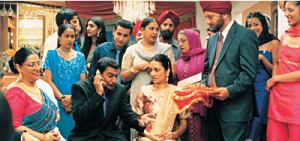 Pooja (2nd form right) in the engagment scene,


&nbsp
In the summer of 2001, just after leaving the University, Pooja was offered the role of Meena in the hit comedy film Bend it like Beckham.
About the Film
"Bend It Like Beckham" directed by acclaimed director Gurinder Chadha created a box office storm on the UK box office. The film has received worldwide acclaim by discerning audiences and critics and it has been proved to be a landmark in the film history of Asian cinema.
"Bend It Like Beckham" reflects the aspirations of a generation of Britain born Indians caught between their roots and their British environment. The film centers around Jess, an Indian girl who dreams of life on a even playing field, whether it be her beloved game of soccer or an opportunity to experience more than what her parents and culture might be ready to accept. Unfolding in contemporary multi-cultured London, "Bend It Like Beckham" is a comedy with heart and substance. The film boasts of versatile British and Indian actors.
Pooja's role
Pooja plays the part of Meena, heroine's cousin and one of the Rude girls.
Review by BBC's Jamie Russell
Although it's set up as an Asian comedy in the "East is East" mould, it's also a great football movie, with some hilariously surreal on-pitch moments (readying herself for a vital free-kick, Jess watches aghast as the wall of defenders transforms into a line of sari-wearing relatives, all desperately trying to put her off). It's sweet without ever becoming schmaltzy and finishes by successfully tying up every loose end. It's the kind of film that'll have the whole audience clapping by the time the credit sequence outtakes appear. Mr David Beckham ought to be proud to have his name on such a great film.
About the director: Gurinder Chadha
As with her earlier films "Bhaji On The Beach" (1993) and "What's Cooking?" (2000), Gurinder Chadha uses comedy to explore social, racial and familial issues. In the film, football is used as a metaphor to investigate what it means to be young, female and self-confident in contemporary Britain.
Many of the actors from Bend It Like Beckham have become new British stars
Keira Knightley, an unknown schoolgirl before the film, has since landed big roles in Pirates of the Caribbean and Love Actually.
Parminder Nagra has joined the cast of ER.
Ameet Chana Plays Pooja's brother, Adi, in Eastenders
Preeya Kalidas got staring role in the West End musical Bombay Dreams
Archie Punjabi has been on our TV with "Grease Monkey" and "Sea of Souls".
and, of course, Pooja got the role of Kareena in the Eastenders
There are hundreds of sites about BILB on the net